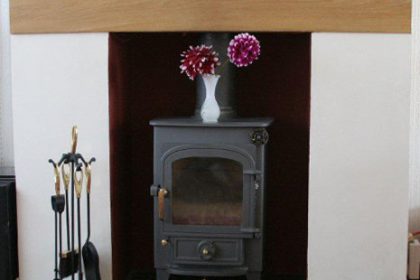 A recent install of a Clearview Smokeless stove in the Cofton area. This is a smokeless zone, so a Pioneer 400 stove was an idea log burner for the area as it reburns the smoke. We install the full range of Clearview stoves, including the 750.
More details about the Pioneer 400:
The Clearview Pioneer 400 Stove is the highest specification small stove ever built. Fuel efficient, it can burn only one kilo of wood an hour, stay in overnight, boil a kettle and heat your water – if the 8,000 BTU boiler is added.
You can choose a horizontal or vertical flue position and three different leg lengths. Our six beautiful colours are also an option.
This rugged 5kW stove is equally at home in a country cottage, a modern apartment, mobile home or boat.
The Pioneer is highly fuel efficient – it can burn just one kilo of wood per hour. Guide output 1 – 5kw.
CLEARVIEW PIONEER 400 STANDARD FEATURES
Large Clearview double glazed door.
Hot 'air wash system' for really clean burning without fuss or pampering.
Independent up draught and down draught air distribution system for maximum response and control.
Refractory lining, promoting clean combustion.
Large hot plate surface for coffee pot or kettle.
Multi-fuel, both wood and coal burn equally well.
Rotary grate for easy riddling.
Heavy steel construction – welded inside and out for durability and long life.
Stainless steel ash pan for easy ash removal.
Optional top or rear 150mm (6 inch) diameter flue.
Adjustable hinges and door catch to maintain air tightness throughout the life of the door seals.
Base plate to provide additional floor protection.
Solid brass removable door handle.
Adjustable levelling bolts, for easy adjustment on uneven hearths.
Maximum gross heat output: 5kw