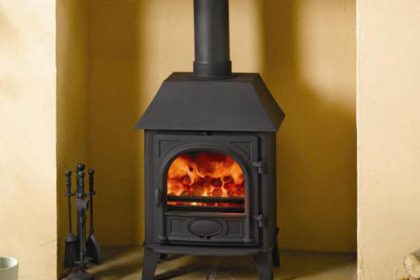 "A versatile and practical stove"
The Stockton 5 stove has a squarer landscape style compared to the portrait style of the Stockton 3 or Stockton 4 stoves. The additional width allows you to load logs up to 330mm (13″) in length. Both the wood burning and multi fuel versions are available with a low canopy.
The multi fuel version is suitable for burning logs, but the wood burning only version will burn logs with even greater efficiency.
Both wood burning versions and the multi fuel flat top version are approved for use in Smoke Control areas.
Colour choices: Matt Black, Metallic Blue, Metallic Brown, Metallic Green.
For more information on the Stovax Stockton range, or to get a quote for installation, give Doug or Martin @ HeatAsh a call. We are both HETAS certified log burner installers with years of experience in the building and stoves trade. Contact us.
Airwash is part of Stovax's firebox air flow technology.
Airwash is a design feature that uses a specially placed vent or vents to draw in cool air from the outside to 'wash' over the inside of the glass. This helps to keep the glass cleaner for longer, allowing you to enjoy the glow and flames to the full. It is also used as primary combustion air when burning wood.
Cleanburn
Cleanburn is part of Stovax's Triple Air System technology. With Cleanburn, secondary air is pre-heated as it passes through a heat exchanger chamber within the firebox. It is then drawn into the smoke stream, where it combusts unburnt hydrocarbons to provide a cleaner burn and greater thermal efficiency. A stove with Cleanburn will give you more heat output from your fuel.
Approved for Smoke Control Areas
Most town and city homes are located in Smoke Control Areas as designated by the Clean Air Act 1993. To burn logs on a stove in these locations, the model installed must have been granted exemption from the regulations by the government through DEFRA. This exemption is given only to appliances which have been independently tested to demonstrate particularly cleanburning combustion. Any Stovax stoves shown as Approved for Smoke Control Areas, such as this one, can be used in these areas when fitted with the appropriate smoke control kit.
Stockton 5 – Key Facts

| | |
| --- | --- |
| Sizing – flat top | 481 x 544 x 335mm (w x h x d)* |
| Sizing – high top | 503 x 685 x 335mm (w x h x d)* |
| Wood burning | Yes |
| Multi fuel (with external riddling) | Yes |
| High efficiency heating | Wood: 80% – Smokeless Fuel: 85% |
| Approved for Smoke Control Areas | Yes |
| Cleanburn | Yes |
| Airwash | Yes |
| Flat top version | Yes |
| Low canopy version | Yes |
| Maximum heat output | 4.9kW |
| Maximum log length | 330mm |
| No room vent required | Yes |
| Boiler option | No |
| Flue connection | 128mm (5″) top or rear |
| Choice of four colours | Yes |