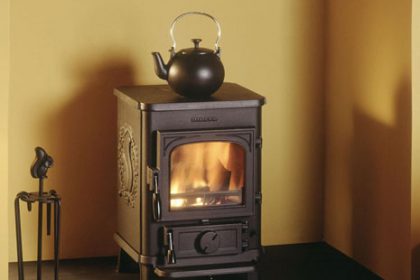 The Morso 1430 Squirrel is small multifuel log burning stove, but its perfectly formed. It comes with a large stay-clean glass panel, convenient ashpan and very low smoke emissions. It is easy to see why the Morsø 1400 Squirrel Series is the most popular small cast iron stove in Britain.
With an average output of 4.6 kW, it makes the 1430 Squirrel ideally suited for small and medium sized rooms and makes a loveable and warm addition to any home.
The Morsø 1430 Squirrel comes with the choice of squirrel sides and is also fitted with bottom and rear heat shield.
For more information on the Morso Squirrel, or to get a quote for installation, give Doug or Martin @ HeatAsh a call. We are both HETAS certified log burner installers with years of experience in the building and stoves trade. Contact us.
Morso Squirrel 1430 Technical details:
Rated output: 4.6kw
Height: 546mm
Width: 388mm
Depth: 438mm
Log length: 28 cms
Features:
• Radiant Heat
• Air wash system
• Primary air supply
• Secondary air supply
• Riddling grate system
• Ash pan
• Top or rear flue outlet
• Boiler option – 8,000 BTU
• Multifuel (Wood, briquettes, and manufactured smokeless fuel)
• EN 13240
Other Morso stoves:
Morso 1410
Morso 1416
Morso 1418
Morso 1430
Morso 1446
Morso 1448
Morso 2110
Morso 2140
Morso 3610
Morso 5448
Morso 7110
Morso 1630
Morso 8140
Morso 8142
Morso 8148
Morso 8180
Morso 8182
Morso 8188
Morso 2B Classic