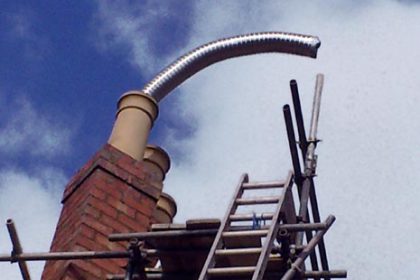 A chimney liner is required for a number of reasons: It provides a safe escape for potentially dangerous fumes that you wouldn't want in your home, but it also improves the performance of your log burning stove. That means that you will need less wood or coal to heat you home every winter! Made from high quality stainless steel, chimney liners are guaranteed by the manufacturer for up to 25 years. When you calculate the cost over this amount of time, they are well worth the investment in reducing trips to the log store alone!
A chimney liner should be installed by a professional Hetas approved engineer, which all of HeatAsh engineers are. If an incorrect size flue is installed, it may hamper the performance of your stove. Worse still, if a flue liner is not installed correctly, it may leak toxic carbon monoxide into your home with potentially fatal consequences.
If you have any questions or need advice on your next chimney or flue liner, contact HeatAsh by clicking here.